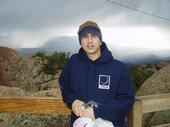 Question? - 27
Denver, CO • 09/14/2007
Are you right for me? If so, why?



5'8, 155lbs, 27, attractive (although the pic is not the best), own my own home, great job, own my car, 2 cats, don't smoke, no kids, etc...

I am up for almost anything in life. Activities I enjoy are camping, hiking, tennis, golf, watching movies, eating out, snow boarding, traveling, and so many other things.



There is a lot more to me so if you are attractive and have your life together then email and tell me about yourself.



Posted by: OhSoHandy User
Located: Denver, CO
(No map found for this address)